A TOAST TO TABACK
DECEMBER 30, 2010
Simms Taback, noted illustrator, children's book author and activist for artist's rights is a hero to a lot of us in the graphic arts. He is a kind of four letter man that we rarely see in our profession or any other: someone who is truly excellent at what he does, who is caring about the world, generous to his colleagues and is also a just a great guy. Usually someone can be some of these but not all. People who are brilliant artists have trouble reaching out to others. Some who are strong advocates for their cause can't reach the level of excellence that time and attention would yield. Simms cultivates all these sides. In our field he gives us a lot to admire.
An excellent website
SEE HERE
designed by Jeff Seaver gives you a strong sense of his career and what his work is like. I am grateful to him and Simms for allowing me use some of the work therefrom.
He had helped found the Graphic Artists Guild, first as it merged with the Illustrators Guild to become the Graphic Artists Guild of NY. The Guild was growing and when I joined the board in '83. Right up to recent times he was editor of the Pricing and Ethical Guidelines book, which has kept standards as high as possible in this slippery industry. Other issues he worked on were those of copyright protection, work-for-hire ethics. The idea of artist's right to original art became industry standard. In the encouragement of contracts written up by artists, we learned to get more of a grip on our relationships with publications. His time at the Guild was one of empowerment for artists. While the Guild is now not what it was, the ideas have taken hold and continue to maintain moral-suation we use with clients everyday. I learned and grew a lot in those years and Simms was a big cause of that.
As an author/artist he has won two Caldicott medals (very prestigious). His work is deceptively simple. But this kind of simple is the hard eloquence we all strive for: nothing out of place or distracting. The story, the design, the color, the humor all arrive together at one time, in one moment. This is art; the delight of seeing a piece by an artist in full charge of all the elements and delivering to you a wonderful world. Here are four examples plus a some animated film clips.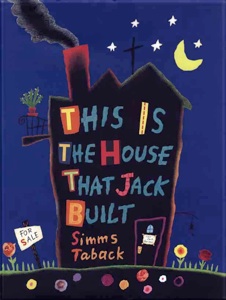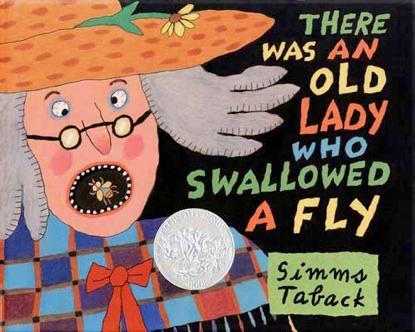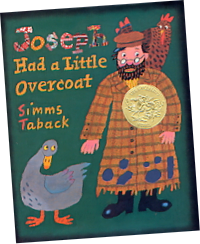 Here's Simms himself talking about There Was an Old Lady and the die cut solution:
None of this touches on the most important point about Simms: his mensch-hood. This is a person who believes that artists . . and all humanity . . . are sharing the space together and could, if they chose, to behave as such. In a competitive market this is a challenge. Fewer assignments means more bumping around for all of us. But the awareness necessary of how we are in this world (it's the only one we get) makes a difference in what kind of place it is. That we are creators of the larger space as well as the smaller one. Simms has done well . . . and done good for some 50 years. There is never a question he won't answer, never a problem you can't talk over with him. He has knowledge and spiritual support and is generous with both. And also can kvetch at you when you got it wrong. In my life I have met many wonderful people. I find them as teachers. The observational learning I got from Simms has stayed with me for almost 30 years. And nothing would please me more than to think that I got to pass some of it along myself. Here's to Simms. And thanks for the overcoat.